He Reared Rabbits For Fees And Now Designs Apps To Detect Diseases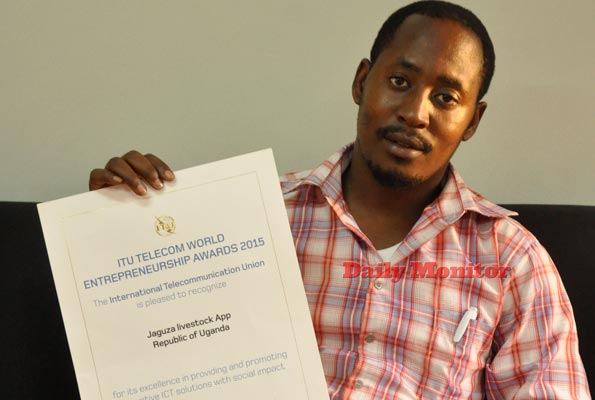 A former rabbit keeper has made it his mission to help farmers in detecting the early stages of diseases in animals as more people strive to ease some of the most pressing problems associated with commercialised agriculture.
Ronald Katamba and his colleagues; Martin Ojambo, Alvin Kabwama and Kyenune of Afrosoft, a company located at Teacher's House on Bombo Road, have touched many farmers with their Jaguza Livestock software application.
Jaguza is a software that can detect diseases in animals days before they actually manifest openly. It is being used as a pilot project on four local farms, where animals are marked with an identification number, then a device attached to them which can be seen and monitored using a mobile phone or a computer.
At 12 years of age, Katamba, was a rabbit farmer in Kayunga, a community where people dedicated lots of their efforts and resources in animal keeping. This helped him pay school fees until one day in his Senior Two (2000) at BLK Muwonge SS, when he woke up to find all his rabbits dead.
"It's this inspiration I got when I was a child that I wish to extend the resilience and effort in caring for the livestock in Uganda and the entire region," Katamba, who lived with his grandfather John Mukiibi after losing his parents, narrates.
"Having lost all my rabbits in one day and missing school for the whole of my second term, I want to help other people like me who continue to fail to detect disease in animals," he adds.
A scientist's dream
Losing his source of livelihood, it could be argued, was a blessing in disguise. His uncle Mwesigwa Ssemambo, an Information Technology (IT) technical consultant, introduced him to programming, gave him books so he could learn how to write codes in C, a computer programming language. Katamba's dream to become a computer scientist was enhanced when he was teaching computers to students at Entebbe Municipal Council during his Senior Six vacation.
Katamba also caddied at Entebbe Golf Course where he met an Indian, LK Ladia, who got him a scholarship to join Makerere University for a short course in Cisco in 2005.
"I had to ensure I certify and then went on to do a Bachelors in IT, where I started writing short programmes. I had no personal computer so I had to sleep in the computer lab to practice and read," he adds. In 2008 at campus second year, he participated in the Microsoft Imagine Cup, a competition where students come up with innovative solutions basing on the UN millennium development goals.
"Ours was on Land use. We (Makerere) managed to beat 14-16 African countries and represented East and Southern Africa in the finals in France," he shares. In 2010, Katamba became a teaching assistant at Makerere but left two years later to start his own company.
Selling the Jaguza gospel
While at Makerere, Katamba supervised and recommended many students' works including Win Senga's Mati Babu, a software for diagnosing malaria.
He helped supervise Joshua Waburo's Makotoba, an app that helps diagnose tuberculosis. Waburo was later invited for an innovators camp in Silicon Valley for six weeks.
"I designed Lunda, a mobile app that helps to follow up the gestation period and insemination of livestock, after he attended a UN Youth Innovation Hangout last year," Katamba explains.
"It made me think I should make an app detecting diseases in animals and that was the birth of Jaguza in May last year."
UN Resident coordinator Ahunna Eziakonwa liked Jaguza and advised Katamba to present it at the ITU Telecom World awards held October 12-15, an event that would attract participants from 129 countries.
Before then, he shared his ideas at the ACIA awards held at Sheraton Hotel, and at a platform held by Vodafone at Kampala Serena Hotel from where he was encouraged by positive reactions from farmers.
"After that, Mr (Godfery) Mutabazi ensured I applied for the ITU awards.
"Mr Mutabazi told me people were eager to see my project but there was no one at my stall. The judges found it fitting to select me for the Best Project category," he continues.
Challenges
Katamba and his colleagues leave in constant fear their work could be plagiarised.
"When people call me, I tend to think they want to help me but sometimes people take our ideas and create their own apps.
The app also has a few limitations. "To monitor gestation, you have to note changes in animals that will be giving birth for the very first time, to know if they are pregnant.
After that, you can always monitor the gestation and insemination periods of the animal using Jaguza."
Also, the farms we have visited are in villages with poor network. We need to partner with telecom companies so we can use their boosters," Katamba reveals.
How the app works
Jaguza Livestock App is a system used to monitor and diagnose early stages of diseases in animals, using sensor technology, and locate the whereabouts of animals among others. It can locate the whereabouts of the animals in a given geographical area. Each time an animal moves out of range, a notification is sent to a solar powered receiver (spr) from the device. The spr sends this information to a cloud server which in turn sends information to your computer or mobile phone.