Ugandan Innovator Katamba Woos Investors at CTO Apps Forum in Rwanda
Award winning young innovator Ronald Katamba has called upon the world bank, malady Common Wealth and other potential investors to consider the Technology sector which he said is the solution to the problems that Africa is faced with.
"We are lucky to have potential leaders in World Bank that has the foresight and understanding that IT innovation and advancement is what will propel our rural folks to sit at the table of world giants like China and the US who thrive on technological advancements," said Katamba.
"IT has the ability to take us to the top like these super powers," he added.
Katamba was speaking at the Common Wealth ICT Applications forum held in Kigali, Rwanda last week. The forum was aimed at promoting ICT applications, primarily those in developing countries, with a view to leveraging their potential contribution to socio-economic development.
He underscored that most people in the developing countries thrive on Agriculture and livestock farming for their livelihood, calling upon investors to intervene and help them maximize the profits.
Katamba whose innovation, Jaguza Livestock App was the winner of the CTO Commonwealth Youth ICT Applications 2016 competition, e-Agriculture category was allowed a chance to explain to the attendees, the mode of operation of the app and the impact it has had in Uganda so far.
"As an IT Specialist, I have focused on doing something that can positively impact the majority of Ugandans in the agriculture sector because I am persuaded without a shadow of doubt that just like the way Alexander Graham Bell's telephone invention in the 1870s revolutionized, a software like Jaguza can help transform the way agriculture is done at the grassroots," he said.
"The beauty with this app is that it works with both smartphone and non-smartphone so one does not need to own a smart phone only to access the services this app avails," he added.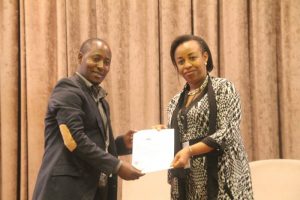 Katamba being handed a certificate of participation at the forum
Jaguza Livestock App is currently being used on 62 farms in two districts in Uganda to detect earlier, the diseases that attack livestock and hinder the quality of meat and quantity of milk produced.
It has won a number of local and global awards including locally organised ACIA Awards, e-agriculture category at the Commonwealth Youth ICT competition 2016, the ITU World Entrepreneurship Award in Budapest, Hungary among others.
In Rwanda, Katamba travelled with officials from the Uganda Communications Commission (UCC), the National Information Technology Authority (NITA) and other players in the ICT industry.