Unwrap Android for Your Next Big App
Afrosoft IT Solutions is an Android app development company that provides end-to-end services to help you turn your idea into a successful mobile product, from scratch. Our team brings in the skills tested in over 90 mobile development projects to create amazing consumer and enterprise Android apps.
We help product companies and VC-backed startups tackle the challenges that come with Android's openness, and win a tremendous base of loyal users. For enterprise customers, we deliver highly customizable and secure apps that offer a wealth of mission-critical functionality without compromising the UX.
We Support the Entire Android Ecosystem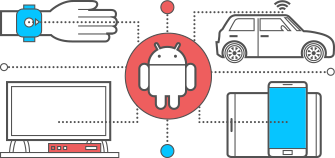 Let's Talk
Our Android team will be happy to take on a cool new gig. Let's sit down to discuss your idea in more detail, and help you turn it into a winning mobile solution your users will love.
Technology Expertise
NET Technologies – C#, ASP.NET, VB.NET
SharePoint server/ MOSS 2010 and 2013
BizTalk Server / MS CRM
iPhone, Android & Mobile App
LAMP/WAMP – PHP, MySql
Flex, Silverlight & Ajax
JAVA & J2EE
SOA & SaaS
Mobile Application Development
Embedded System Development
Linux and Unix Administration
Network Administration and Security
SQL Server 2008 R2 and 2012
Windows Server 2008R2 and 2012
Exchange Server 2010 and 2013
Virtualization both Windows and Linux
Solaris 11/HPUX
Navision 2010 and 2013