Plugin / Adware Development
Grown with knowledge and experience, Genie toolbar is a toolbar development company with extensive features for different types of companies and individuals too. At Genie Toolbar customers have experienced more than 100% satisfaction through the most innovative and professional applications developed by our proficient team.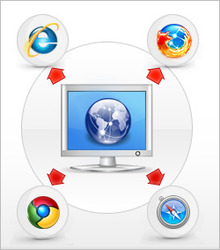 Genie Toolbar offers its exclusive Custom toolbar development services to suit your and your business needs and help you search quickly and efficiently without navigating away.
Genie Toolbar, toolbar development company, focuses on optimizing the business and bringing in the extended traffic to the respective site, maintains a high level time management schedule for timely delivery of projects. We provide services with cutting-edge technology and absolutely reasonable prices. Genie Toolbar provides toolbar development, plug-in development, SEO services, SEO solutions, and much more. We provide custom toolbar development, plug-in development for almost all the prominent browsers like: Firefox, Chrome, IE, Safari and Opera. Genie Toolbar is the product of the Genie Technology.
Benefits
Browser extensions enrich web browsing experience as they allow users to customize the GUI (graphical user interface) of their browser.
1. Enriched Browsing Experience
Businesses can retain their customers and also expand their reach by providing custom Browsers' extensions and toolbars with their respective logos embossed to their clients/customers.
2. Branding and Marketing
Browser toolbar development boost businesses' branding and marketing efforts by helping them tap the huge potential of the internet with custom browser extensions, toolbars and other widgets.
3. Unrivalled Brand Exposure
Web service providers can promote their products, both existing and new, and subsequently raise consumer awareness with the help of custom browser extensions; the scope is simply endless.
4. Internal Network Automation
Browsers' toolbars help organisations infuse productivity, speed and synergy in their internal web-based network with custom browser toolbars, add-ons and plug-ins tailored according to specific needs.
Adware development is popular among software developers who also design adware promotion systems and are adept at custom adware development. Adwares help play, display or download advertisements and is the most popular way of marketing products Get a custom Adware developed for the marketing purpose and stay away from those hazardous Adwares that harm your system tremendously and also cause system crash-down. Genie-toolbar provides with secured Adware development, which do not load your system with unnecessary stuff.
After years of experience in toolbar development, Genie-toolbar implements unique security to your adware so that no on can invade your privacy by accessing critical data. Custom adware development from reputed company like Genie-toolbar is the only way to get perfect adware solutions.
Some Feature are as follows :
Set the list of keyword, URL, Redirect URL and Popup URL for it.
Set the homepage, Desktop Icon and favorites
Run your own Ad Network like DoubleClick, LinkShare, Engage and others with the (Ad Network Module).
Set Error page and Search pages
Get registered to publisher's services
Unlimited number of web sites in one account or campaign
Target audiences can be set based on parameters like Keywords, Geographical region, Browsing behavior, Browser, OS, IP address, etc.
Download the Software or Toolbar
Use the fast Search provided by software
Easy search using toolbar
Avail discount upon shopping via publisher's advertiser network.
Track the website usage and send info in web server silently.
Change the banner or advertisement silently of any site.
Internally convert the affiliate id to other affiliate id.
Insert the banner or advertisement in any site like facebook, twitter etc.
Element injection of any site.
Content Gateway handling of any site.
Popup/ under for any site.
All tracking information transfer to the web server.
Manage all reports by administrator by user, IP Address, MAC id, Date, Time, Duration Site name etc.
Technology Expertise
NET Technologies – C#, ASP.NET, VB.NET
SharePoint server/ MOSS 2010 and 2013
BizTalk Server / MS CRM
iPhone, Android & Mobile App
LAMP/WAMP – PHP, MySql
Flex, Silverlight & Ajax
JAVA & J2EE
SOA & SaaS
Mobile Application Development
Embedded System Development
Linux and Unix Administration
Network Administration and Security
SQL Server 2008 R2 and 2012
Windows Server 2008R2 and 2012
Exchange Server 2010 and 2013
Virtualization both Windows and Linux
Solaris 11/HPUX
Navision 2010 and 2013