Afrosoft Innovator Stun ICT Ministry Permanent Secretary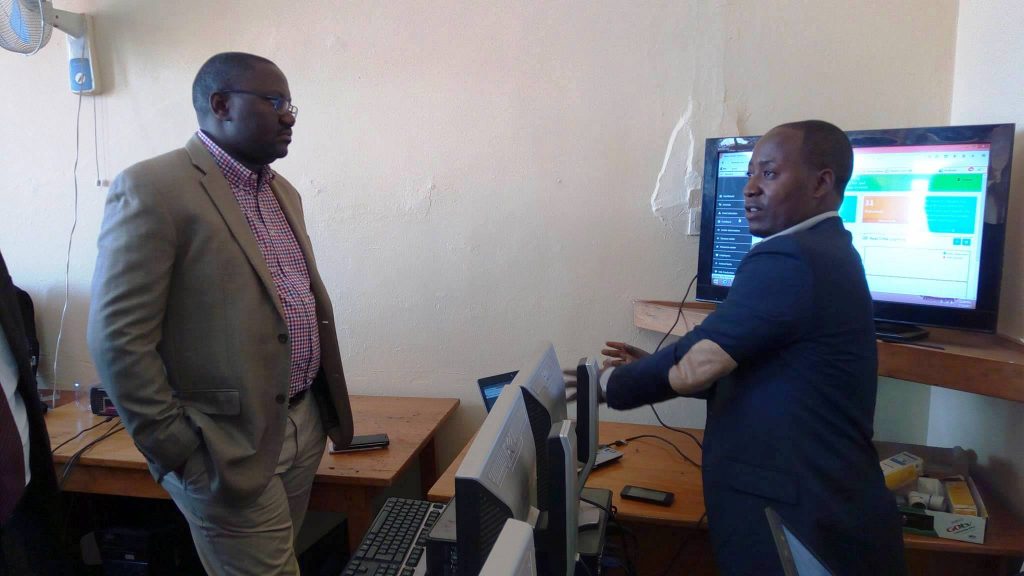 The Parmanent Secretary of the Ministry of Information and Communications Technology (ICT), Vincent Waiswa Bagiire has expressed his amazement at the innovations being hatched by Afrosoft IT Solutions, approved a Kampala based innovations hub.
Bagiire was Friday paying a courtesy visit to Ronald Katamba, the Afrosoft proprietor at their offices at Teachers' House in Kampala.
Afrosoft is a software Development company delivering value proposition through quality process and people. Over time, the company had evolved to become an incubation hub for ICT innovators and training ground for ICT scholars.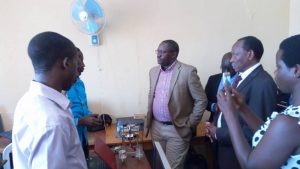 Some of the innovators pitching their innovations as Bagiire and other MoICT officials look on.
During his visit, the Permanent Secretary got an opportunity to interact with various innovators who were at the office, many of them explaining and pitching their innovations.
Notable among the projects being run at Afrosoft hub is an automated Antenatal care system (Mama), an electronic payment system (Rainbow) and the famous, award winning Jaguza Livestock app among others.
Katamba took time to explain the genesis, inspiration behind the Jaguza app and the projected impact the app could have on the livestock industry in the country.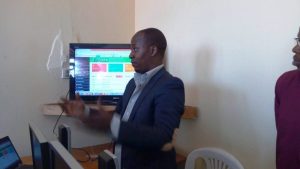 Ronald Katamba explaining the mode of operation of Jaguza Livestock app
Currently, the app is being used by farmers in two districts in Uganda and has received a number of local and international excellence awards.
"We want to support innovators but they should be organized, that's why we need a thorough process analysis before one starts to do anything," said Bagiire.
"For one to develop a solution, they need to identify a particular problem in society such that their apps are demand driven," he added.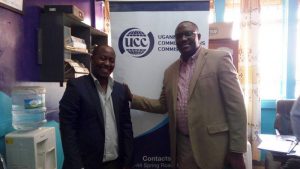 UCC is one of the Agencies partnering with Afrosoft to groom innovators
Bagiire revealed that the ministry harbors plans to support and finance innovators through the innovation fund advising that caution needs to be taken to ensure the funds are put to good use.
"We want to give people this innovation fund but we need to know they are on good truck. Some people might have good innovations but they get messed along the way and that's what we want to avoid."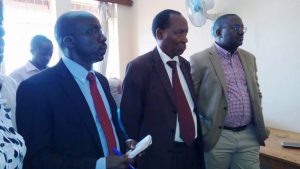 MoICT officials watch as Afrosoft innovators pitch their innovations