World Bank Visits Innovator Katamba as Jaguza Livestock App Sets To Go International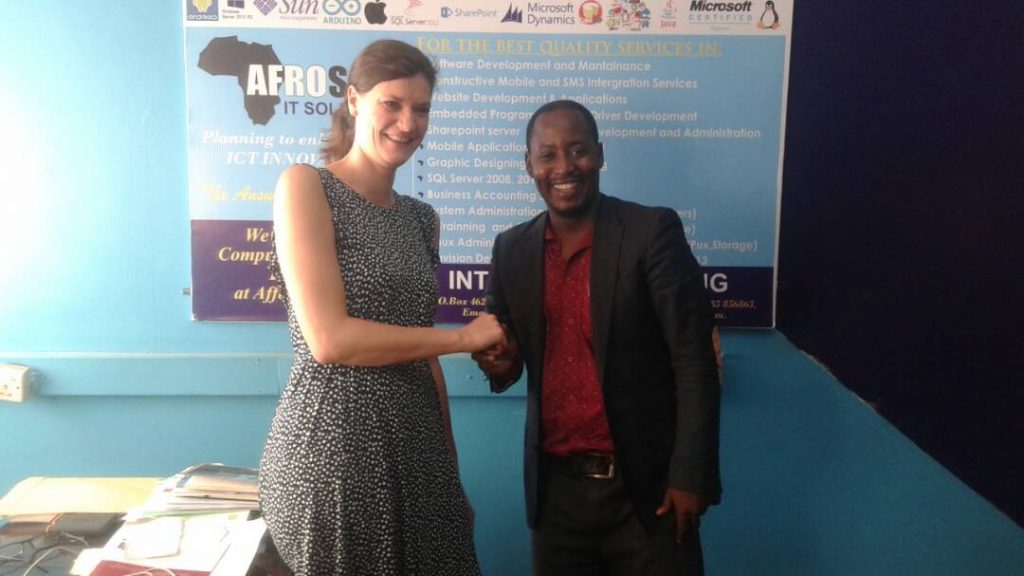 Uganda's multi award winning Agricultural innovation, this Jaguza Livestock App is set to go international, Afrosoft boss Ronald Katamba has revealed.
He said he is working on partnerships with the African countries of South Africa, Rwanda, Malawi and Mozambique to extend the services of the platform to their countries.
Developed by Katamba and his team at Afrosoft, a technology and innovation hub in Kampala, Jaguza is a system used to monitor and diagnose early stages of diseases in animals, using sensor technology and locate the whereabouts of animals in a given area using GPS systems.
Currently, the app is being used by farmers in three districts in Uganda with the fourth district set to be added this weekend.
Katamba further revealed that he has held talks with the ICT Ministry in the South Pacific nation of Fiji to have his app services extended there to better livestock production.
He was earlier this week engaging World Bank's Profession officer for climate-smart Agricuture, Friederike Mikulcak at Afrosoft Hub in Kampala.
World Bank is currently looking for the success stories of entrepreneurs in all African countries to gauge which innovations would create impact on their communities for possible funding.
In Uganda, they selected Ronald Katamba a software developer, mentor and Agriculture entrepreneur. He will represent Ugandan innovators, tell the story of what an innovator goes through and the challenges faced along the way.
Katamba has on several fronts represented Uganda, and East Africa in international innovation contests where his Jaguza platform has scooped global awards.
The App was recognized at the ITU Telcom World Entrepreneurship Award 2015 as the best entrepreneurship project of the year, named among Best Nine Agriculture Projects in Africa 2015 by CTA Africa, and named among best 20 projects in East Africa by Ashoka Change Maker.
In 2016, the app was recognised as the best e-agriculture for young ICT Innovation at the Common Wealth Telecommunication Awards, an award he received at the CTO Forum in Nadi, Fiji.