How Ronald Katamba's Award-winning App Will Transform Uganda's Livestock Farming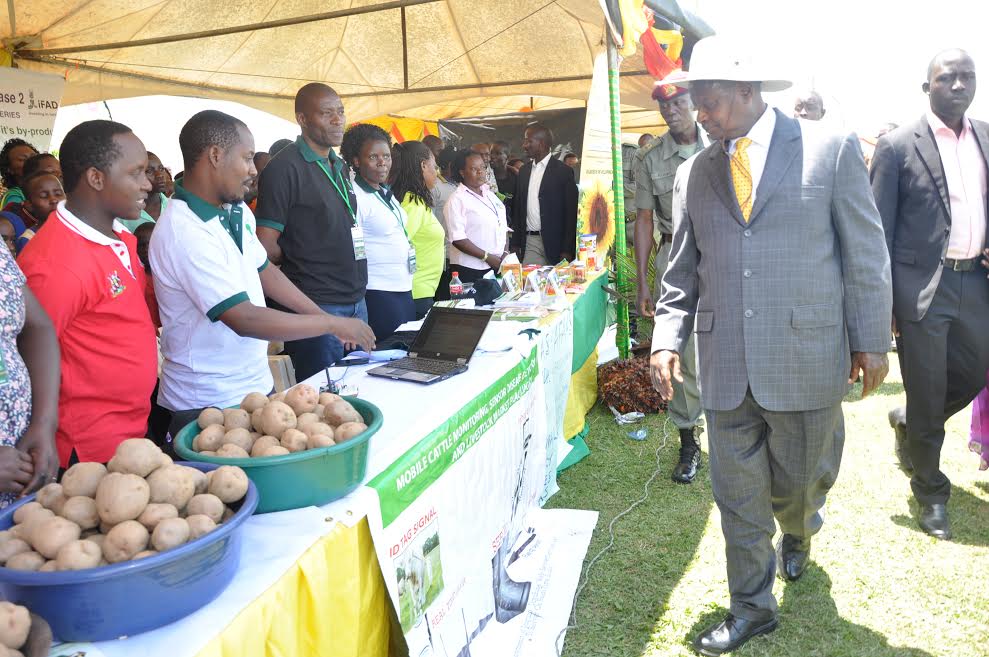 With the world's youngest population, widespread use of mobile phones, and the increasingly easy access to internet services, Ugandans have embraced Information and Communication Technology (ICT) innovations.
This, can be witnessed from the number of web and mobile applications with working prototypes that have been developed by young innovators in the country, all in a bid to solve problems that the country is facing and others to better the standards of living.
The challenge however, lies in the sustainability of the products, given the fact that the process of development requires monetary funding, vision and objectives for why the apps are developed, the impact that the app will have to the community among others.
These and many others altogether have caused some of the 'would be' exciting apps to not see the light of the day.
The Uganda Communications Commission (UCC) has played a pivotal role in giving many young innovators in the country a chance to showcase their products through their annual Acia awards and this has helped a number of them to gain global recognition.
One of the innovators, Ronald Katamba (the developer of the 'Jaguza' Livestock App) has contested on the international level, winning different awards especially in the categories of Agriculture and entrepreneurship.
The most recent award that Katamba's 'Jaguza' Livestock App has scooped was at the Common Wealth Youth ICT competition, where it emerged as the best in the e-Agriculture category.
ChimpReports ' Paul Mugume caught up with Katamba at his office located at Teachers' House, Bombo Road in Uganda's capital Kampala to establish where he got the inspiration to build Jaguza, and his future prospects of the app.
Katamba runs an IT company, AfroSoft, which deals in web and mobile app development, mentoring young innovators, training interns among many other activities.
He says he was introduced to coding while in Senior three, by his uncle, Mwesigwa Ssemambo who at the time was an IT consultant and a programmer.
"I started learning how to code while I was in senior three, at DLK Muwonge Senior Secondary School in Kayunga."
"My uncle gave me books about programming in C. As I was reading, I would keep writing some simple code and that's how I managed to master it," he said adding that "Right now, I can even author a book about the C programming language."
Katamba, due to his love for computing and the knowledge that he had in the field, was hired to teach computing to the Entebbe Municipal Council employees during his Senior six Vacation in 2006, from where he joined Makerere University to study a bachelor's degree in Information Technology.
"I had good knowledge of programming by the time I joined campus, all I needed was to have it certified and maybe add more to what I already knew; that's why I chose to do IT at campus."
"I was happy when I was introduced to C programming language; I had to make sure that I master it since it's the basis of all programming."
Developing Apps
Katamba says he started developing apps in year one at campus after he was introduced to programming in C.
"In my first year, first semester, after being introduced to C; that's when I started making apps. My first application was a loan management system and I made it using C."
"By then, I didn't have a personal laptop so I used to spend a lot of time in the computer lab for practice and coding. I made my first app from the computer lab."
"During my second semester, we got a call from Microsoft. We applied and went to Nairobi where we presented a project about Land use and Carbondioxide mission."
"We managed to beat 16 African countries and represented East and Southern Africa in the finals in France."
Building Jaguza Livestock App
Katamba says he started building the app in 2014 and was inspired by memories of the catastrophe that hit his farm while he was in senior one.
"When my parents died in 1996, I couldn't afford school fees to go to school. I resorted to rabbit farming to raise money for my school fees and in a way, the business worked well because I had over 30 rabbits on the farm."
"There is that fateful day when I woke up, and found out that all my rabbits were dead. I was left with no option and had to miss school for a full term."
"That is exactly what inspired me to build the app because I know there is someone out there who is like me, and they need help," he explained.
He says he first designed 'Lunda', a mobile app that helps to follow up the gestation period and insemination of livestock but after he attended a UN Youth Innovation Hangout, he thought of making an app to detect disease in animals.
"I presented Jaguza at Acia awards where I was encouraged by positive reactions from farmers and the judges selected it in the best project category,' he said.
"After that, the UN Resident coordinator Ahunna Eziakonwa liked the app and advised me to present it at the ITU Telecom World awards where I was recognized."
How the app works
Jaguza Livestock App is a system used to monitor and diagnose early stages of diseases in animals, using sensor technology, and locate the whereabouts of animals in a given area using GPS systems.
Each time an animal moves out of range, a notification is sent to a solar powered receiver (spr) from the device. The spr sends this information to a cloud server which in turn sends information to your computer or mobile phone.
"Initially, 'Jaguza' and 'Lunda' used to be different apps but we combined them to make one app that can perform all the functions," said Katamba.
The app can be used online and offline. While online, the notifications are received via the app although there is an SMS option for offline users.
This, Katamba says, will help extend Jaguza services to even the people at the grassroot who don't have access to internet.
As part of the new developments, a team of Veterinary Doctors has also been put in place to offer treatment and consultancy services through the app via sms so as to enable a farmer access all the medical attention he needs for his livestock.
Awards and Recognition
The App was recognized at the ITU Telcom World Entrepreneurship Award 2015 as the best entrepreneurship project of the year.
Named among Best Nine Agriculture Projects in Africa 2015 by CTA Africa.
Named among best 20 projects in East Africa by Ashoka Change Maker
Recognised as the best e-agriculture for young ICT Innovation at the Common Wealth Telecommunication Awards, an award he is set to receive at the CTO Forum scheduled for September 12 to16, 2016 in Nadi, Fiji.
Challenges
Katamba says that the biggest challenge he faces are the people who want to steal and replicate his work.
"This app is not on google play store because there are those people who don't want to think. They just want to find your work and plagiarize it," he said.
He said that some of his other projects have already been duplicated and so he is worried they may want to duplicate Jaguza too.
"At some places where we have presented, you see someone recording; when you ask them why they are recording, they tell you they are going to present it to their boss but before you realize, they have duplicated your work."