Top-to-Bottom Solutions Based on SharePoint Online, Office 365 & SharePoint On-Premises
Afosoft IT Solutions has been mastering SharePoint for 11+ years and Office 365 for 6+ years. Being a Microsoft Gold Competency Partner, the company leverages the capabilities of this highly configurable platform and Office 365 suite. We provide intelligent and cost-effective solutions such as document, contract, and knowledge management, internal and external collaboration for businesses of different sizes and industries. To reinforce our offering, we are also happy to deliver a wide range of related services such as consulting, migration, integration, support, etc. that will enable you to use SharePoint and Office 365 functionality to the fullest for the benefit of your business.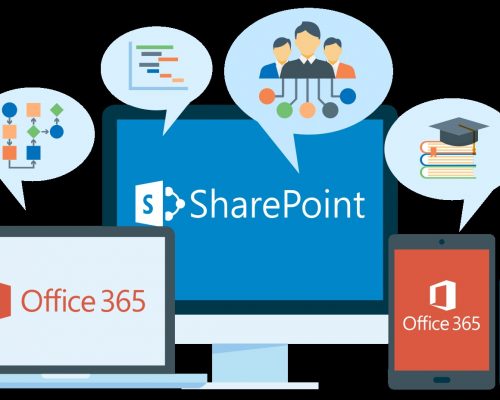 SharePoint Platform
Our SharePoint team has expertise in delivering SharePoint solutions in line with all the platform's deployment models:
Cloud (SharePoint Online): A great choice for small, midsize, and large businesses, as it allows reducing costs without compromising on functionality.
On-premises (SharePoint 2016). It's preferable for enterprises that are obliged to store all the content on-premises due to strict compliance regulations and can afford ongoing investments to maintain a big server farm.
Hybrid. The model is suitable for businesses that want to keep core content on-premises while using Office 365 applications.
SharePoint Online
Our solutions based on SharePoint Online bring in the extensive capabilities of the platform:
Infrastructure. SharePoint Online doesn't require servers and hardware to give users access to the environment.
Storage. 1TB of initial storage in SharePoint Online with additional 10GB per licensed user.
Upgrade. Microsoft has full control over the cloud environment. SharePoint Online is upgraded automatically and free of charge. Besides, the cloud deployment of SharePoint is always the first to get upgrades as compared to the on-premises deployment.
External user access. SharePoint Online already comes with the ability to connect external users.
Mobility. SharePoint Online can be accessed anytime, anywhere and from any device.
Customization. SharePoint Online offers limited custom development.
Reliability. Microsoft guarantees the uptime of 99.9%.
Backups. Microsoft uses multiple layers of redundancy and backups in their data centers.
Internet reliability. SharePoint Online is dependent on the Internet connection.
Security. SharePoint Online uses disks with BitLocker encryption and secures traffic with SSL over HTTP. The platform also features multifactor authentication and data loss prevention.
Compliance. SharePoint Online is compliant with most regulations across industries: HIPAA, FISMA, ISO 27001, FERPA, SSAE 16, etc.
SharePoint on-premises
Afrosoft's team also has a profound experience in delivering solutions and services for the on-premises deployment of SharePoint. If you opt for SharePoint 2016, for example, you should keep in mind the peculiarities of SharePoint on-premises:
Infrastructure. The on-premises deployment of SharePoint requires investing in servers, hardware and IT team. It highly depends on systems and services such as SQL Server, the Internet Information Service and more. An organization also needs a professional IT team to install and manage updates and patches, create and test backups, detect and deal with bottlenecks, set up security features, etc.
Storage. Storage is bound by the physical limits of the infrastructure.
Upgrade. Updates and new tools are available at a later date as compared to SharePoint Online. However, an in-house administrator has full control over the on-premises environment and can choose when to do upgrading or patching.
Customization. SharePoint on-premises is fully customizable.
Internet reliability. SharePoint on-premises is not dependent on the Internet connection.
Security. As compared to SharePoint Online, in SharePoint on-premises, access to sensitive data can be limited to the corporate network or VPN.
Compliance. As information is stored in house, SharePoint on-premises is compliant with strict compliance requirements.
Office 365 Environment
Office 365 is a cloud-based source of productivity software, applications for team collaboration, project management, data analytics, etc. We help businesses to find a perfect set of applications tailored to their needs that can form an effective employee digital workplace.
Technology Expertise
NET Technologies – C#, ASP.NET, VB.NET
SharePoint server/ MOSS 2010 and 2013
BizTalk Server / MS CRM
iPhone, Android & Mobile App
LAMP/WAMP – PHP, MySql
Flex, Silverlight & Ajax
JAVA & J2EE
SOA & SaaS
Mobile Application Development
Embedded System Development
Linux and Unix Administration
Network Administration and Security
SQL Server 2008 R2 and 2012
Windows Server 2008R2 and 2012
Exchange Server 2010 and 2013
Virtualization both Windows and Linux
Solaris 11/HPUX
Navision 2010 and 2013