A visionary: Ronald Katamba strengthening IoT, soft skilling base in Uganda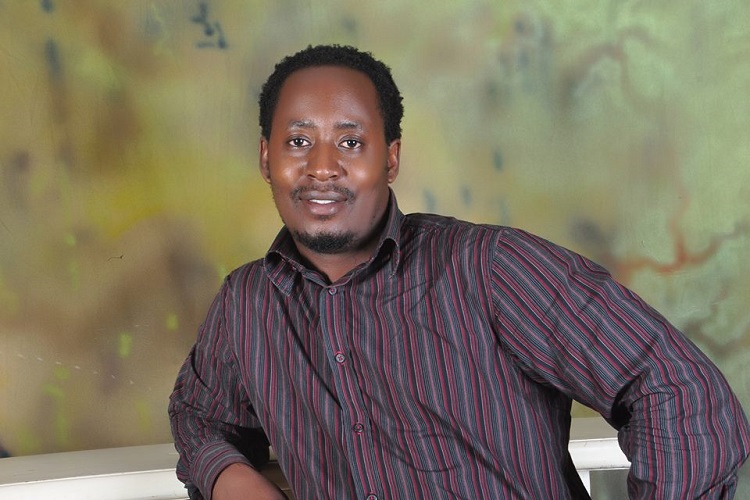 One day in 2011, Ronald Katamba went to office to alert his employer that he was quitting his 9 to 5 job. Katamba had been working with Techno Brain's Ugandan branch, earning an annual salary of about Shs60 million.
Mankind, for several years, has been making decisions basing on mainly experience and advice; Katamba is no exception.
A few years earlier, Katamba, then a student of Information Technology at Makerere University, had participated in the Imagine Cup, an annual Microsoft Corp-organized competition that brings together student developers worldwide to help resolve some of the world's toughest challenges.
While there, he met the developer of Microsoft Visual Studio, who told him to focus on building his own startup instead of working for other companies. He took the advice. Though he later accepted a job after college, Katamba wanted to save some initial capital to kick off with. It was that day of 2012 that he felt time was ripe. (I was not able to independently verify the salary claim.)
On an afternoon of June 13, I hailed a SafeBoda for a ride to Teacher's House located along Bombo Road in Kampala. Afrosoft IT Solutions, Katamba's startup, occupies the largest part of the facility's second floor. Having been inspired by a Microsoft worker, Katamba replaced Micro- to create Afro-soft.
While he now rents two spacious adjacent rooms that shelter equipment through which hundreds of youths have acquired multiple entrepreneurial and IT skills, 7 years ago he was occupying a tellingly smaller section in one of the rooms, acting both as his office and bedroom.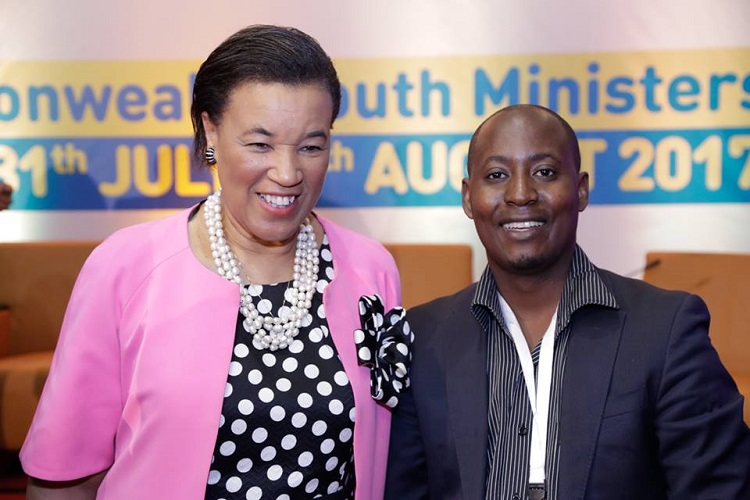 Commonwealth Secretary General Patricia Janet Scotland poses for a photo with Ronald Katamba during the Commonwealth Youth Ministers meeting in July of 2017 in Uganda 
"My friends and I used to work and sleep here," Katamba, wearing a triumphant smile recollected the period, adding: "my mattresses are still there we can go and I show them to you (I forgot to remind him after the interview)."
Afrosoft IT Solutions has developed applications and several other tools that have been used to support rural health facilities and agriculture organizations. Some of the organizations that have gained from his works include Has Children Hospital, Kisakye Heath Center, Esaff Uganda, Uganda Oil Seed Producer and Processor Association (UOSPA).
Among the key produts of his startup is Jaguza Livestock App, a software built to monitor and diagnose early stages of diseases in animals, using sensor technology, and locate the whereabouts of animals in a given area using GPS, or Global Positioning System trackers.
The inspiration to develop this tool was drawn from excruciating memories in the late nineties. After losing his parents at an early age, Katamba resorted to rabbit keeping to raise school fees. The project was however short-lived when he woke up one day and found all of them dead.
"That is exactly what inspired me to build the app because I know there is someone out there who is like me, and they need help," he has said in previous interviews.
Before Jaguza, Katamba had developed Lunda, a mobile application that would follow up the gestation period and insemination of livestock. It was after attending a UN Youth Innovation Hangout that he decided to make a more inclusive and sophisticated software.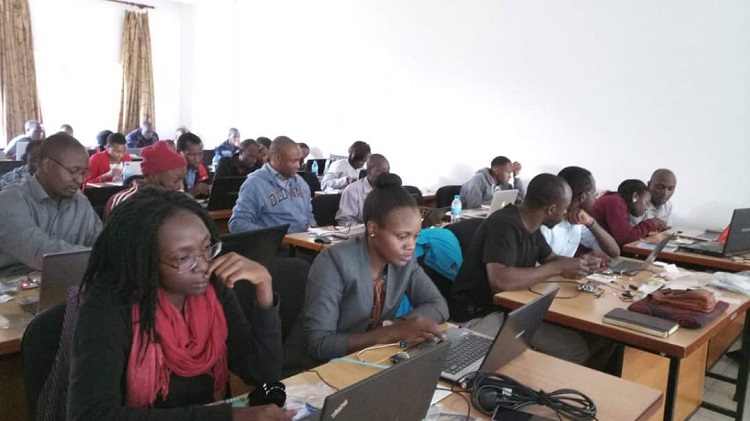 Ronald Katamba (in grey shirt) at Tanzania at Nelson Mandela institute of science and Technology
The app can be used online and offline. While online, the notifications are received via the app although there is an SMS option for offline users.
The application is currently operational in 3 districts in eastern Uganda; over 60 veterinary doctors can be accessed via the app that has assisted more than 800 farmers.
IoT and soft skilling
Ronald Katamba has travelled to several places across the globe and participated in regional, continental and global technology events. And one crucial aspect he has observed from all this, is that Africa still lags behind in IT skills.
It is against this background that he has decided to, through his company, avail an opportunity for young people to acquire soft skills in entrepreneurship and emerging technologies like the Internet of Things, or IoT.
Africa has one of the fastest growing youth populations, and by 2050, the population is expected to double to over 830 million. Uganda is said to have the world's youngest population with over 78 percent of its population below the age of 30.
According to Africa Development Bank, the potential benefits of these youths have not been realized because most of them are unemployed, discouraged, or only vulnerably employed.
However, AfDB also notes that, with the world at the brink of a fourth industrial revolution, the demand for digitization across all sectors has never been greater, and, officials feel, these youth hold great potential to lead this digital revolution.
To partake in this advancement, though, youths need to acquire the skills and experiences needed to access the full range of available employment and entrepreneurship opportunities in the ICT sector.
Afrosoft IT Solutions is among the startups that are taking the lead in Africa.
Afrosoft currently hosts over 300 students from a variety of tertiary institutions on internship program and they are being offered soft skills like communication techniques, grooming, work ethic and time management. the interns are also walked through basic coding and programming.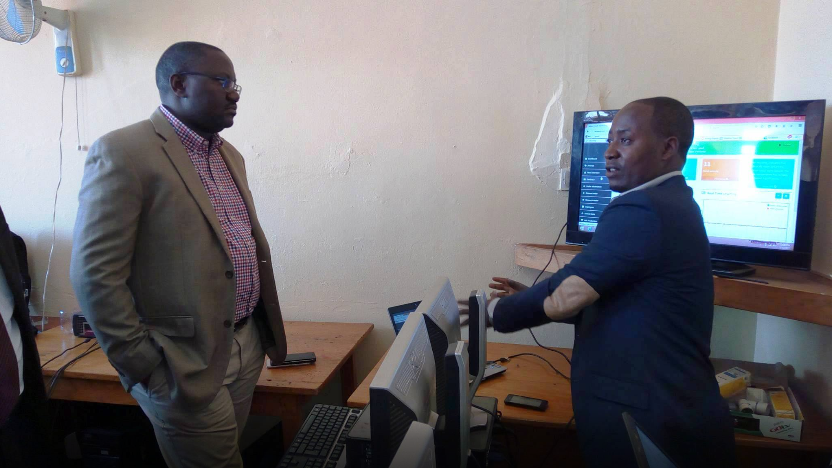 ICT Ministry Permanent Secretary at Afrosoft offices. At the right, Katamba makes a presentation.
During holidays, secondary school students and pupils are also admitted to the facility for elementary training in computer applications and manipulating hardware like robots.
Katamba believes that when a child is trained at a young age, by the time they grow up, they have acquainted themselves with the ICT world and amassed a ton of knowledge to shape their career.
These services come at a fee, beginning at Shs200,000 for those between 5 and 15, and then Shs350,000 for those at post-primary school level.
Katamba told me that learners are given ample time to manipulate the machines. Interns are also taken to places where Afrosoft has contracts in order to expose them to work.
Aside from the above, Afrosoft is trying to strengthen the base for training Ugandans in the Internet of Things.
IoT is a network of physical devices, vehicles, home appliances and other items embedded with electronics, software, sensors, actuators, and connectivity which enable these objects to connect and exchange data.
The IoT provides for more integration of the physical world into computer-based systems, which in turn results in improved efficiency, accuracy and economic benefit while reducing human intervention.
For perspective, imagine a world where you have an application on your phone that you can universally use to command doors on your house, refrigerators, electric lights, TV screens, cars and anything electronic usable by mankind.
IoT is among the technologies that are being endorsed as the world advances to smart homes and cities. It's training, especially in developing countries is still wanting.
Charles Kalungi is the IoT instructor at Afrosoft. Kalungi, who projects a predictable nerdy figure – slouched posture and shy – told me that he taught himself most of the technology concepts.
He has a Bachelor of Software Engineering from Makerere University. Besides using the Internet to acquire knowledge in IoT, Kalungi also learnt some ideas from a friend who was more schooled in it. Kalungi says at Makerere, they were just introduced to it (IoT), but there was no hands-on experience, apart from using simulators.
Kalungi says rudimentary application of IoT has been around though people had not realized that; he justifies that with cases like using scanners to open doors and fingerprints to lock houses. The only difference now, he says, the system will be internet based.
In his short experience with IoT, Kalungi has participated in development of some innovations like 'Motokayo', an instrument that integrates car devices, and another is used to connect home appliances (he has tested it but he hasn't exploited it commercially).
Charles Kalungi has so far conducted 3 internship programs at Afrosoft and trained hundreds of students both within and outside Uganda.
As such technologies are embraced, apart from lack of skills, there are other challenges like internet penetration, currently at 49%, that we face as a country. Government, however, say it is taking several steps to solve some of the challenges, and this year the ICT budget was increased by Shs43 billion. But this is much lower compared to our neighbor Kenya.
Ronald Katamba looks at IoT as a technology that "will speed up our lives and ease the way we do business." He has already integrated IoT in Jaguza, and, using a feature called Animal Mapping, he is able "track the movements of my cows."
Another system that has been developed though currently caged is Makotoba, which can be used to diagnose tuberculosis using a phone. They have previously approached some organizations for collaboration but some, instead of supporting them, launched a competition against it.
On a good note, they were able to secure a patent with support from the Ministry of Science, Technology and Innovation.
Funding
Just as any other startup, Afrosoft is still grappling with limited facilitation. For most of these years, Katamba has been mainly supported by an individual he never wants to disclose but likes to praise.
Another key sponsor has been Microsoft, which, as he began, gave him a package where he would download software free of charge.
In March of this year, the Microsoft Corporation named him the IoT evangelist for East Africa and promised him funding, including access to Azure cloud services.
Azure is a cloud computing service created by Microsoft for building, testing, deploying, and managing applications and services through a global network of Microsoft-managed data centers.
He has so far been to several East African region institutions, including Nelson Mandela Institute of Science and Technology in Tanzania, Kabarak university in Kenya and FabLab in Namibia, spreading the IoT gospel. In Uganda, he has organised hackathons in Muteesa I Royal University, Kampala International University and Islamic University in Uganda.
On a sad note though, Katamba has not received significant support from his own government, despite having met President Yoweri Museveni, Speaker Rebecca Kadaga and a call from the ICT ministry.
Despite the delayed promises, Katamba is still hopeful; he has even turned down multiple offers from prominent organizations, including a job in Silicon Valley, just to stay around and support the development of ICT in his country.
The Government of Uganda has set aside Shs75bn to support ICT innovators under a five-year National ICT Initiatives Support Programme in the country.
In the first phase, Shs15 billion was released, with Shs5bn channeled to the establishment of the state-of-the-art National ICT Innovation Hub at the Institute of ICT, Nakawa, and the remaining portion was doled out to 12 innovators in April of this year, who were selected by a 9-member committee.
There is talk, however, that the process of selection is not fair, and some people are said to be benefiting because of technical know who.
For now, Katamba says a USD100,000 support from government would help him create a strong base. He believes he can train developers, a thing, he says, would help government to realize its goal of enhancing local content instead of outsourcing IT labor. Several systems to support government programs can be developed, he says.
At the Africa Innovation Summit which was recently hosted in Rwanda, Katamba, who was invited to speak about IoT, linked up with officials from African Development Bank, The Rockefeller Foundation, Microsoft and Facebook who, during that event, launched a program dubbed Coding for Employment.
The program is aimed at training youth in demand-driven Information and Communications Technology (ICT) curriculum and matching graduates directly with ICT employers in order shape them for tomorrow's jobs. The program is expected to create over 9 million jobs and reach 32 million youth and women across Africa.
Studies are currently being carried out to see how to implement the program.
Testimony
One of the people that have benefited from Afrosoft is Jordan Mukisa, who while at Makerere University Business School, applied for an internship placement and has since remained at the company.
In our interview, Mukisa who was interrupted in the middle of a teaching session told me that "If it wasn't for Afrosoft, I wouldn't be doing what I do: training. The little computing (such as Word Press, Javascript, computerized accounting, report writing and documentation) I know, I learnt it from here."
Mukisa studied Business Computing at MUBS.